Country, Region, City
Latitude & Longitude, ZIP Code
Area Code, Elevation
ASN & District
Weather Station Data
Address Type & Usage Type
Time Zone, ISP, Domain, Net Speed
Advertising Category
VPN, Residential Proxy
Mobile Carrier Information, MNC, MCC
IP2Location is a non-intrusive IP location lookup technology that retrieves geolocation information with no explicit permission required from users. All you need is your client's IP address.
It works for all IP addresses including IPv4 and IPv6 in one database or API. Simple and no extra cost required for IP location lookup.
It can be seamlessly integrated into any software platforms to retrieve IP geolocation information using database, REST API and SDK (Java, .NET, PHP, Ruby, Python, Perl and more)
It comes with different IP database packages with varying levels of IP geolocation information granularity to suit your business needs. Pay for what you need.
Learn more about your Internet traffics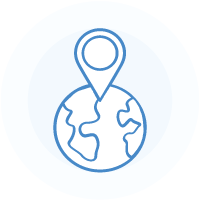 Try IP2Location Demo
Our Products
IP2Location IP GeoLocation
Determine the user's geographical location information.
IP2Proxy Proxy Detection
Detect anonymous proxy, VPN, TOR, SES, RES and data center IPs.
Why Choose Us
20+
Programming Languages
24%
Fortune 500 Customers
---