Internet IP Address 2020 Report
IP addresses are managed by the Internet Assigned Numbers Authority (IANA) and its regional registries to various organizations worldwide. In this report, we have collected some data with regards to IPv4 address allocations in 2019 based on the IP2Location.
Over the past 2 years, the top 25 countries remained the same except France & Brazil swapping places.
From the 27th to 64th positions, it is mostly red arrows denoting drops in the rankings. This is possibly due to the ISPs migrating their users to IPv6.
The same trend can be seen from the 75th to the 92nd which seems to indicate a global pattern of IPv4 allocations reducing.
From the chart analysis (see Chart 2), the allocation rates for most countries are relatively flat throughout the year.
References:
IP2Location Internet IP Address Year 2019 Report
https://www.ip2location.com/reports/internet-ip-address-2019-report
Table 1:The Percentage of IP Address Ownership by Country in 2019
| Country Code | Country Name | Total IPs | Percentage | 2019 Ranking | 2018 Ranking |
| --- | --- | --- | --- | --- | --- |
| US | UNITED STATES | 1,259,044,561 | 37.4654% | 1 | 1 |
| CN | CHINA | 344,356,448 | 10.2470% | 2 | 2 |
| JP | JAPAN | 211,871,239 | 6.3047% | 3 | 3 |
| DE | GERMANY | 127,657,241 | 3.7987% | 4 | 4 |
| GB | UNITED KINGDOM | 121,437,491 | 3.6136% | 5 | 5 |
| KR | KOREA REPUBLIC OF | 112,613,504 | 3.3510% | 6 | 6 |
| BR | BRAZIL | 86,406,679 | 2.5712% | 7 | 8 |
| FR | FRANCE | 83,390,116 | 2.4814% | 8 | 7 |
| CA | CANADA | 70,958,111 | 2.1115% | 9 | 9 |
| IT | ITALY | 56,023,808 | 1.6671% | 10 | 10 |
| NL | NETHERLANDS | 53,784,602 | 1.6005% | 11 | 11 |
| AU | AUSTRALIA | 51,571,222 | 1.5346% | 12 | 12 |
| RU | RUSSIAN FEDERATION | 45,615,858 | 1.3574% | 13 | 13 |
| IN | INDIA | 42,996,882 | 1.2795% | 14 | 14 |
| TW | TAIWAN PROVINCE OF CHINA | 35,910,677 | 1.0686% | 15 | 15 |
| ES | SPAIN | 34,090,906 | 1.0144% | 16 | 16 |
| ZA | SOUTH AFRICA | 31,240,110 | 0.9296% | 17 | 17 |
| MX | MEXICO | 29,298,346 | 0.8718% | 18 | 18 |
| SE | SWEDEN | 28,658,761 | 0.8528% | 19 | 19 |
| EG | EGYPT | 23,526,153 | 0.7001% | 20 | 20 |
| PL | POLAND | 21,185,360 | 0.6304% | 21 | 21 |
| CH | SWITZERLAND | 20,402,692 | 0.6071% | 22 | 22 |
| AR | ARGENTINA | 19,386,548 | 0.5769% | 23 | 23 |
| ID | INDONESIA | 18,779,123 | 0.5588% | 24 | 24 |
| CO | COLOMBIA | 17,475,829 | 0.5200% | 25 | 25 |
| HK | HONG KONG | 16,836,898 | 0.5010% | 26 | 29 |
| TR | TURKEY | 16,771,010 | 0.4991% | 27 | 26 |
| VN | VIET NAM | 16,027,434 | 0.4769% | 28 | 27 |
| NO | NORWAY | 15,707,340 | 0.4674% | 29 | 28 |
| FI | FINLAND | 14,560,179 | 0.4333% | 30 | 30 |
| DK | DENMARK | 13,166,434 | 0.3918% | 31 | 31 |
| IE | IRELAND | 13,158,607 | 0.3916% | 32 | 36 |
| IR | IRAN ISLAMIC REPUBLIC OF | 12,569,078 | 0.3740% | 33 | 32 |
| BE | BELGIUM | 12,367,504 | 0.3680% | 34 | 34 |
| MA | MOROCCO | 12,092,490 | 0.3598% | 35 | 38 |
| SG | SINGAPORE | 11,672,375 | 0.3473% | 36 | 33 |
| UA | UKRAINE | 11,580,996 | 0.3446% | 37 | 35 |
| AT | AUSTRIA | 11,207,804 | 0.3335% | 38 | 37 |
| SA | SAUDI ARABIA | 10,426,970 | 0.3103% | 39 | 41 |
| CL | CHILE | 10,147,892 | 0.3020% | 40 | 39 |
| TH | THAILAND | 9,387,857 | 0.2794% | 41 | 40 |
| MU | MAURITIUS | 9,243,498 | 0.2751% | 42 | 58 |
| CZ | CZECH REPUBLIC | 8,666,484 | 0.2579% | 43 | 42 |
| RO | ROMANIA | 8,429,230 | 0.2508% | 44 | 43 |
| IL | ISRAEL | 8,328,093 | 0.2478% | 45 | 44 |
| NZ | NEW ZEALAND | 7,278,527 | 0.2166% | 46 | 45 |
| TN | TUNISIA | 7,174,090 | 0.2135% | 47 | 49 |
| VE | VENEZUELA BOLIVARIAN REPUBLIC OF | 6,807,318 | 0.2026% | 48 | 46 |
| MY | MALAYSIA | 6,704,836 | 0.1995% | 49 | 47 |
| PT | PORTUGAL | 6,699,272 | 0.1994% | 50 | 48 |
| HU | HUNGARY | 5,981,253 | 0.1780% | 51 | 50 |
| PK | PAKISTAN | 5,774,248 | 0.1718% | 52 | 54 |
| PH | PHILIPPINES | 5,764,134 | 0.1715% | 53 | 53 |
| GR | GREECE | 5,715,207 | 0.1701% | 54 | 51 |
| KE | KENYA | 5,691,742 | 0.1694% | 55 | 52 |
| DZ | ALGERIA | 4,799,342 | 0.1428% | 56 | 55 |
| BG | BULGARIA | 4,395,085 | 0.1308% | 57 | 56 |
| AE | UNITED ARAB EMIRATES | 3,996,302 | 0.1189% | 58 | 57 |
| KZ | KAZAKHSTAN | 3,199,384 | 0.0952% | 59 | 60 |
| NG | NIGERIA | 3,180,203 | 0.0946% | 60 | 64 |
| PE | PERU | 3,119,960 | 0.0928% | 61 | 59 |
| LT | LITHUANIA | 3,087,225 | 0.0919% | 62 | 61 |
| HR | CROATIA | 2,920,804 | 0.0869% | 63 | 62 |
| SK | SLOVAKIA | 2,822,784 | 0.0840% | 64 | 63 |
| EC | ECUADOR | 2,729,526 | 0.0812% | 65 | 65 |
| SI | SLOVENIA | 2,671,033 | 0.0795% | 66 | 66 |
| CR | COSTA RICA | 2,533,758 | 0.0754% | 67 | 67 |
| UY | URUGUAY | 2,464,927 | 0.0733% | 68 | 68 |
| RS | SERBIA | 2,390,040 | 0.0711% | 69 | 69 |
| GH | GHANA | 2,262,677 | 0.0673% | 70 | 70 |
| KW | KUWAIT | 1,978,014 | 0.0589% | 71 | 71 |
| BY | BELARUS | 1,933,002 | 0.0575% | 72 | 72 |
| LV | LATVIA | 1,920,974 | 0.0572% | 73 | 73 |
| SD | SUDAN | 1,892,167 | 0.0563% | 74 | 77 |
| PA | PANAMA | 1,773,036 | 0.0528% | 75 | 74 |
| BD | BANGLADESH | 1,660,490 | 0.0494% | 76 | 78 |
| ZM | ZAMBIA | 1,659,793 | 0.0494% | 77 | 79 |
| LU | LUXEMBOURG | 1,610,163 | 0.0479% | 78 | 75 |
| DO | DOMINICAN REPUBLIC | 1,596,456 | 0.0475% | 79 | 76 |
| UG | UGANDA | 1,444,516 | 0.0430% | 80 | 90 |
| EE | ESTONIA | 1,417,687 | 0.0422% | 81 | 80 |
| PR | PUERTO RICO | 1,380,886 | 0.0411% | 82 | 81 |
| MD | MOLDOVA REPUBLIC OF | 1,358,868 | 0.0404% | 83 | 82 |
| SY | SYRIAN ARAB REPUBLIC | 1,290,778 | 0.0384% | 84 | 83 |
| GE | GEORGIA | 1,248,484 | 0.0372% | 85 | 85 |
| AO | ANGOLA | 1,246,976 | 0.0371% | 86 | 84 |
| CI | COTE D'IVOIRE | 1,186,681 | 0.0353% | 87 | 89 |
| BO | BOLIVIA PLURINATIONAL STATE OF | 1,168,658 | 0.0348% | 88 | 86 |
| PY | PARAGUAY | 1,139,624 | 0.0339% | 89 | 87 |
| TZ | TANZANIA UNITED REPUBLIC OF | 1,096,395 | 0.0326% | 90 | 88 |
| OM | OMAN | 974,423 | 0.0290% | 91 | 92 |
| CY | CYPRUS | 973,711 | 0.0290% | 92 | 91 |
| IS | ICELAND | 911,804 | 0.0271% | 93 | 93 |
| QA | QATAR | 860,316 | 0.0256% | 94 | 94 |
| BA | BOSNIA AND HERZEGOVINA | 834,071 | 0.0248% | 95 | 95 |
| AZ | AZERBAIJAN | 765,751 | 0.0228% | 96 | 96 |
| CM | CAMEROON | 721,056 | 0.0215% | 97 | 97 |
| MK | NORTH MACEDONIA | 720,889 | 0.0215% | 98 | 98 |
| PS | PALESTINE STATE OF | 716,526 | 0.0213% | 99 | 101 |
| JO | JORDAN | 694,758 | 0.0207% | 100 | 99 |
| SV | EL SALVADOR | 689,463 | 0.0205% | 101 | 100 |
| IQ | IRAQ | 686,519 | 0.0204% | 102 | 103 |
| MT | MALTA | 657,689 | 0.0196% | 103 | 106 |
| GT | GUATEMALA | 649,006 | 0.0193% | 104 | 102 |
| LB | LEBANON | 646,946 | 0.0193% | 105 | 104 |
| AM | ARMENIA | 635,814 | 0.0189% | 106 | 105 |
| BH | BAHRAIN | 577,166 | 0.0172% | 107 | 111 |
| LK | SRI LANKA | 568,741 | 0.0169% | 108 | 107 |
| NP | NEPAL | 552,413 | 0.0164% | 109 | 109 |
| MW | MALAWI | 549,319 | 0.0163% | 110 | 116 |
| TT | TRINIDAD AND TOBAGO | 533,763 | 0.0159% | 111 | 108 |
| HN | HONDURAS | 501,370 | 0.0149% | 112 | 110 |
| RE | REUNION | 499,859 | 0.0149% | 113 | 117 |
| GA | GABON | 498,379 | 0.0148% | 114 | 112 |
| NA | NAMIBIA | 469,405 | 0.0140% | 115 | 113 |
| MZ | MOZAMBIQUE | 466,173 | 0.0139% | 116 | 114 |
| NI | NICARAGUA | 445,810 | 0.0133% | 117 | 115 |
| LY | LIBYA | 422,762 | 0.0126% | 118 | 118 |
| KH | CAMBODIA | 416,212 | 0.0124% | 119 | 122 |
| SN | SENEGAL | 401,032 | 0.0119% | 120 | 123 |
| MO | MACAO | 371,720 | 0.0111% | 121 | 121 |
| ET | ETHIOPIA | 366,098 | 0.0109% | 122 | 120 |
| AL | ALBANIA | 362,015 | 0.0108% | 123 | 124 |
| TG | TOGO | 340,230 | 0.0101% | 124 | 125 |
| BF | BURKINA FASO | 314,269 | 0.0094% | 125 | 126 |
| RW | RWANDA | 307,819 | 0.0092% | 126 | 119 |
| UZ | UZBEKISTAN | 285,533 | 0.0085% | 127 | 130 |
| KG | KYRGYZSTAN | 283,494 | 0.0084% | 128 | 128 |
| JM | JAMAICA | 276,576 | 0.0082% | 129 | 129 |
| GM | GAMBIA | 271,073 | 0.0081% | 130 | 131 |
| CU | CUBA | 260,527 | 0.0078% | 131 | 132 |
| MN | MONGOLIA | 247,701 | 0.0074% | 132 | 133 |
| GU | GUAM | 229,804 | 0.0068% | 133 | 134 |
| AF | AFGHANISTAN | 225,754 | 0.0067% | 134 | 135 |
| MG | MADAGASCAR | 218,419 | 0.0065% | 135 | 141 |
| BN | BRUNEI DARUSSALAM | 215,896 | 0.0064% | 136 | 136 |
| GP | GUADELOUPE | 212,526 | 0.0063% | 137 | 148 |
| ZW | ZIMBABWE | 203,990 | 0.0061% | 138 | 137 |
| ME | MONTENEGRO | 192,270 | 0.0057% | 139 | 138 |
| YE | YEMEN | 188,924 | 0.0056% | 140 | 152 |
| CW | CURACAO | 186,351 | 0.0055% | 141 | 139 |
| SC | SEYCHELLES | 185,617 | 0.0055% | 142 | 127 |
| KY | CAYMAN ISLANDS | 183,855 | 0.0055% | 143 | 140 |
| MQ | MARTINIQUE | 180,638 | 0.0054% | 144 | 154 |
| CD | CONGO THE DEMOCRATIC REPUBLIC OF THE | 176,658 | 0.0053% | 145 | 146 |
| MM | MYANMAR | 176,644 | 0.0053% | 146 | 150 |
| LR | LIBERIA | 172,146 | 0.0051% | 147 | 142 |
| BJ | BENIN | 170,333 | 0.0051% | 148 | 143 |
| HT | HAITI | 167,582 | 0.0050% | 149 | 145 |
| BW | BOTSWANA | 166,953 | 0.0050% | 150 | 147 |
| NC | NEW CALEDONIA | 165,537 | 0.0049% | 151 | 144 |
| BS | BAHAMAS | 159,187 | 0.0047% | 152 | 149 |
| FJ | FIJI | 150,655 | 0.0045% | 153 | 153 |
| CG | CONGO | 150,242 | 0.0045% | 154 | 156 |
| BB | BARBADOS | 148,939 | 0.0044% | 155 | 151 |
| BM | BERMUDA | 130,113 | 0.0039% | 156 | 157 |
| VI | VIRGIN ISLANDS U.S. | 129,137 | 0.0038% | 157 | 155 |
| BZ | BELIZE | 127,373 | 0.0038% | 158 | 159 |
| LS | LESOTHO | 126,875 | 0.0038% | 159 | 158 |
| LI | LIECHTENSTEIN | 111,903 | 0.0033% | 160 | 160 |
| IM | ISLE OF MAN | 111,504 | 0.0033% | 161 | 162 |
| AW | ARUBA | 103,766 | 0.0031% | 162 | 161 |
| SL | SIERRA LEONE | 101,035 | 0.0030% | 163 | 165 |
| GF | FRENCH GUIANA | 94,155 | 0.0028% | 164 | 173 |
| ML | MALI | 89,809 | 0.0027% | 165 | 163 |
| MV | MALDIVES | 88,309 | 0.0026% | 166 | 169 |
| JE | JERSEY | 84,983 | 0.0025% | 167 | 167 |
| TJ | TAJIKISTAN | 83,811 | 0.0025% | 168 | 166 |
| SR | SURINAME | 82,917 | 0.0025% | 169 | 164 |
| LA | LAO PEOPLE'S DEMOCRATIC REPUBLIC | 82,505 | 0.0025% | 170 | 168 |
| GI | GIBRALTAR | 76,271 | 0.0023% | 171 | 171 |
| DJ | DJIBOUTI | 73,539 | 0.0022% | 172 | 172 |
| GY | GUYANA | 71,460 | 0.0021% | 173 | 174 |
| PG | PAPUA NEW GUINEA | 70,477 | 0.0021% | 174 | 175 |
| GG | GUERNSEY | 70,126 | 0.0021% | 175 | 170 |
| PF | FRENCH POLYNESIA | 64,961 | 0.0019% | 176 | 176 |
| MC | MONACO | 59,367 | 0.0018% | 177 | 177 |
| AD | ANDORRA | 57,913 | 0.0017% | 178 | 179 |
| SZ | ESWATINI | 56,159 | 0.0017% | 179 | 178 |
| AG | ANTIGUA AND BARBUDA | 50,867 | 0.0015% | 180 | 180 |
| SO | SOMALIA | 48,509 | 0.0014% | 181 | 184 |
| MR | MAURITANIA | 48,140 | 0.0014% | 182 | 181 |
| VG | VIRGIN ISLANDS BRITISH | 47,919 | 0.0014% | 183 | 183 |
| AX | ALAND ISLANDS | 47,382 | 0.0014% | 184 | 186 |
| NE | NIGER | 45,355 | 0.0013% | 185 | 182 |
| FO | FAROE ISLANDS | 44,466 | 0.0013% | 186 | 185 |
| BI | BURUNDI | 43,767 | 0.0013% | 187 | 187 |
| SM | SAN MARINO | 39,230 | 0.0012% | 188 | 190 |
| LC | SAINT LUCIA | 39,031 | 0.0012% | 189 | 188 |
| GN | GUINEA | 38,131 | 0.0011% | 190 | 189 |
| BT | BHUTAN | 37,533 | 0.0011% | 191 | 192 |
| SX | SINT MAARTEN (DUTCH PART) | 35,819 | 0.0011% | 192 | 191 |
| CV | CABO VERDE | 32,923 | 0.0010% | 193 | 194 |
| DM | DOMINICA | 32,134 | 0.0010% | 194 | 193 |
| MF | SAINT MARTIN (FRENCH PART) | 31,873 | 0.0009% | 195 | 196 |
| GD | GRENADA | 30,437 | 0.0009% | 196 | 195 |
| KN | SAINT KITTS AND NEVIS | 30,408 | 0.0009% | 197 | 197 |
| YT | MAYOTTE | 29,369 | 0.0009% | 198 | 206 |
| GL | GREENLAND | 29,325 | 0.0009% | 199 | 199 |
| TD | CHAD | 27,733 | 0.0008% | 200 | 198 |
| VU | VANUATU | 25,724 | 0.0008% | 201 | 204 |
| GQ | EQUATORIAL GUINEA | 25,468 | 0.0008% | 202 | 203 |
| BQ | BONAIRE SINT EUSTATIUS AND SABA | 24,577 | 0.0007% | 203 | 201 |
| WS | SAMOA | 24,188 | 0.0007% | 204 | 205 |
| VC | SAINT VINCENT AND THE GRENADINES | 24,134 | 0.0007% | 205 | 202 |
| TM | TURKMENISTAN | 22,246 | 0.0007% | 206 | 200 |
| TL | TIMOR-LESTE | 18,867 | 0.0006% | 207 | 207 |
| MP | NORTHERN MARIANA ISLANDS | 17,418 | 0.0005% | 208 | 208 |
| SS | SOUTH SUDAN | 17,092 | 0.0005% | 209 | 209 |
| SB | SOLOMON ISLANDS | 16,969 | 0.0005% | 210 | 210 |
| TO | TONGA | 14,507 | 0.0004% | 211 | 214 |
| NR | NAURU | 14,379 | 0.0004% | 212 | 213 |
| ST | SAO TOME AND PRINCIPE | 14,353 | 0.0004% | 213 | 212 |
| VA | HOLY SEE | 13,935 | 0.0004% | 214 | 211 |
| TC | TURKS AND CAICOS ISLANDS | 13,201 | 0.0004% | 215 | 215 |
| FM | MICRONESIA FEDERATED STATES OF | 12,809 | 0.0004% | 216 | 216 |
| TV | TUVALU | 12,289 | 0.0004% | 217 | 218 |
| AI | ANGUILLA | 12,236 | 0.0004% | 218 | 217 |
| CF | CENTRAL AFRICAN REPUBLIC | 10,996 | 0.0003% | 219 | 219 |
| GW | GUINEA-BISSAU | 10,401 | 0.0003% | 220 | 220 |
| KM | COMOROS | 9,970 | 0.0003% | 221 | 221 |
| PW | PALAU | 9,761 | 0.0003% | 222 | 222 |
| MH | MARSHALL ISLANDS | 8,773 | 0.0003% | 223 | 223 |
| AS | AMERICAN SAMOA | 8,747 | 0.0003% | 224 | 225 |
| KI | KIRIBATI | 8,705 | 0.0003% | 225 | 224 |
| CK | COOK ISLANDS | 8,251 | 0.0002% | 226 | 227 |
| ER | ERITREA | 8,245 | 0.0002% | 227 | 226 |
| FK | FALKLAND ISLANDS (MALVINAS) | 6,199 | 0.0002% | 228 | 228 |
| PM | SAINT PIERRE AND MIQUELON | 4,955 | 0.0001% | 229 | 229 |
| WF | WALLIS AND FUTUNA | 3,593 | 0.0001% | 230 | 230 |
| IO | BRITISH INDIAN OCEAN TERRITORY | 3,591 | 0.0001% | 231 | 231 |
| TK | TOKELAU | 3,105 | 0.0001% | 232 | 232 |
| MS | MONTSERRAT | 2,212 | 0.0001% | 233 | 233 |
| NU | NIUE | 2,053 | 0.0001% | 234 | 234 |
| NF | NORFOLK ISLAND | 2,049 | 0.0001% | 235 | 235 |
| BL | SAINT BARTHELEMY | 1,221 | 0.0000% | 236 | 237 |
| UM | UNITED STATES MINOR OUTLYING ISLANDS | 1,163 | 0.0000% | 237 | 240 |
| KP | KOREA DEMOCRATIC PEOPLE'S REPUBLIC OF | 1,029 | 0.0000% | 238 | 238 |
| AQ | ANTARCTICA | 515 | 0.0000% | 239 | 236 |
| CX | CHRISTMAS ISLAND | 171 | 0.0000% | 240 | 239 |
| BV | BOUVET ISLAND | 73 | 0.0000% | 241 | 242 |
| GS | SOUTH GEORGIA AND THE SOUTH SANDWICH ISLANDS | 33 | 0.0000% | 242 | 246 |
| SH | SAINT HELENA ASCENSION AND TRISTAN DA CUNHA | 9 | 0.0000% | 243 | 247 |
| PN | PITCAIRN | 1 | 0.0000% | 244 | 248 |
| CC | COCOS (KEELING) ISLANDS | 1 | 0.0000% | 245 | 241 |
| SJ | SVALBARD AND JAN MAYEN | 1 | 0.0000% | 246 | 243 |
| TF | FRENCH SOUTHERN TERRITORIES | 1 | 0.0000% | 247 | 244 |
| HM | HEARD ISLAND AND MCDONALD ISLANDS | 1 | 0.0000% | 248 | 245 |
| EH | WESTERN SAHARA | 1 | 0.0000% | 249 | 249 |
Chart 1:Worldwide IP Address Ownership by Country in 2019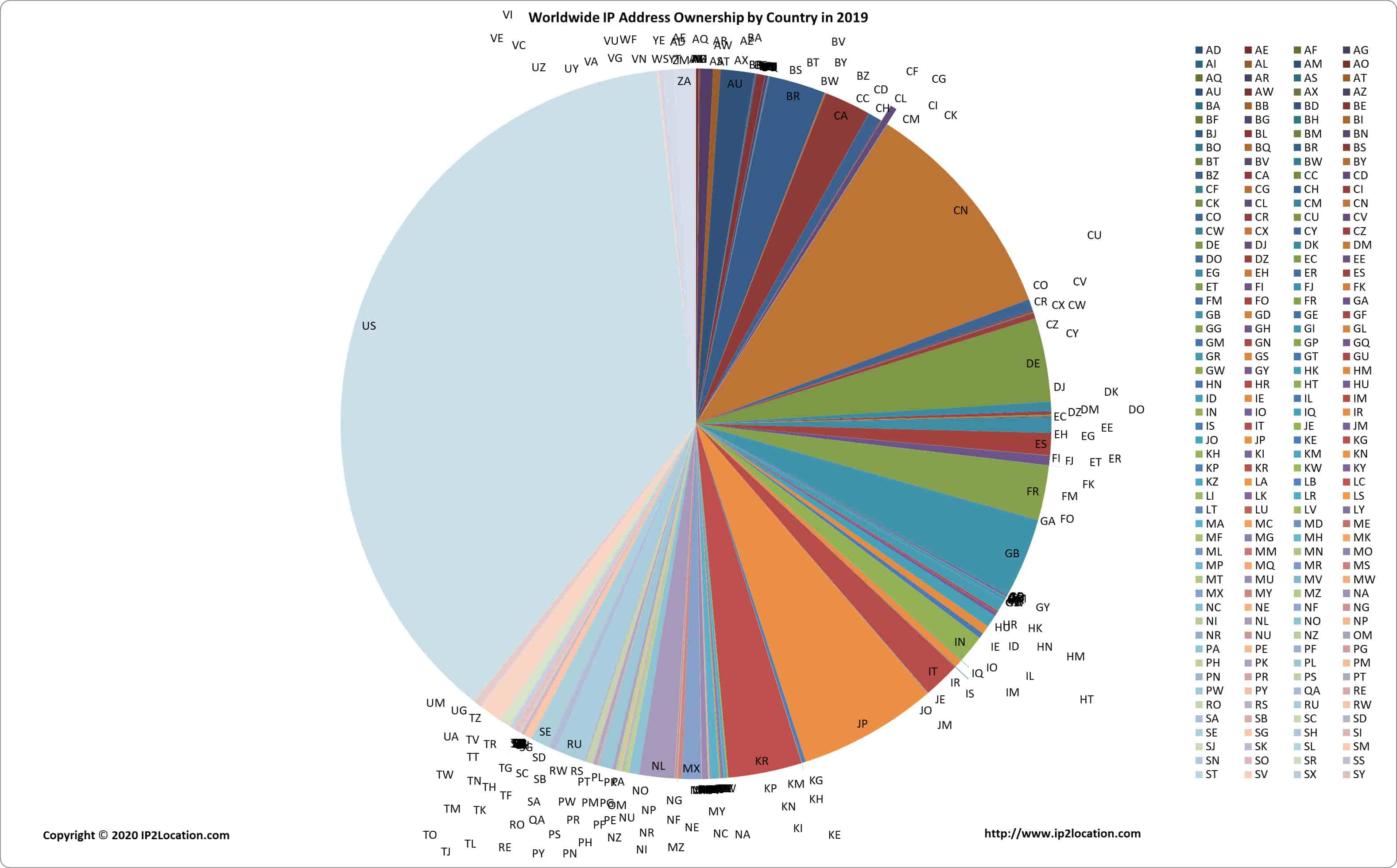 Chart 2:Worldwide IP Address Ownership by Country in 2019 with Month-to-Month Comparison