Internet IP Address 2009 Report
IP address allocation is the process of distributing IP addresses to organizations worldwide. The major effect of the allocation process is that the Internet IP addresses have been distributed unevenly across the entire world due to different political boundaries of the owners. This Year 2009 study report analyzes the distribution and the trends of IP address allocation in 238 countries using historical data. It also compares the trends with the same IP address report for 2007.
In this first section of the study, we breakdown the average percentages of IP address allocations in 238 countries using the IP2Location historical data in 2008. The average percentage is the arithmetic mean of 12-month values collected on the first day of the month from the IP2Location monthly database.
From the data analysis (see Table 1 & Chart 1), the United States tops the allocation list by holding 37.17% of the total IP addresses worldwide. It is followed by the United Kingdom (11.37%), China (7.08%), Japan (6.95%), Germany (4.01%), France (3.75%), Korea (2.91%), Canada (2.66%), the Netherlands (1.91%) and Italy (1.77%). These Top 10 countries in the list occupied close to 80% of the total allocated IP addresses in the world in 2008. The other 228 countries are sharing the remaining 20% of the allocated IP address spaces.
If we compare the data from the year 2007, China has replaced Japan for the 3rd position. The Republic of Korea replaced Canada for the 7th position. Japan and Canada are in 4th and 8th positions respectively in the year 2008.
In this second section of the study, we plot the month-to-month percentage of IP address allocations by country using the IP2Location historical data in 2008.
From the chart analysis (see Chart 2), the total percentages of the IP address space allocated to networks in the United Kingdom is decreasing at a slow pace. The IP address space allocated to networks in China and Japan are increasing at a fast pace. However, we do not foresee that either country will be overtaking the United Kingdom for the second position in the year 2009. The network in the United States is maintaining the growth of the IP address allocation, leading the other 237 countries in the year 2008.
References:
IP2Location Internet IP Address Year 2008 Report
https://www.ip2location.com/reports/internet-ip-address-2008-report
Table 1:The Percentage of IP Address Ownership by Country in 2008
| Country Code | Country Name | Percentage | 2008 Ranking | 2007 Ranking |
| --- | --- | --- | --- | --- |
| US | UNITED STATES | 37.1654% | 1 | 1 |
| UK | UNITED KINGDOM | 11.3728% | 2 | 2 |
| CN | CHINA | 7.0814% | 3 | 4 |
| JP | JAPAN | 6.9465% | 4 | 3 |
| DE | GERMANY | 4.0077% | 5 | 5 |
| FR | FRANCE | 3.7521% | 6 | 6 |
| KR | KOREA REPUBLIC OF | 2.9127% | 7 | 8 |
| CA | CANADA | 2.6635% | 8 | 7 |
| NL | NETHERLANDS | 1.9068% | 9 | 9 |
| IT | ITALY | 1.7678% | 10 | 10 |
| AU | AUSTRALIA | 1.6440% | 11 | 11 |
| BR | BRAZIL | 1.1945% | 12 | 14 |
| ES | SPAIN | 1.0825% | 13 | 12 |
| SE | SWEDEN | 1.0447% | 14 | 13 |
| TW | TAIWAN | 1.0342% | 15 | 16 |
| MX | MEXICO | 0.9933% | 16 | 17 |
| CH | SWITZERLAND | 0.9197% | 17 | 15 |
| RU | RUSSIAN FEDERATION | 0.9071% | 18 | 18 |
| IN | INDIA | 0.7181% | 19 | 23 |
| ZA | SOUTH AFRICA | 0.6370% | 20 | 24 |
| NO | NORWAY | 0.6333% | 21 | 19 |
| PL | POLAND | 0.5926% | 22 | 21 |
| FI | FINLAND | 0.5871% | 23 | 20 |
| AT | AUSTRIA | 0.4541% | 24 | 25 |
| DK | DENMARK | 0.4531% | 25 | 26 |
| TR | TURKEY | 0.4246% | 26 | 28 |
| BE | BELGIUM | 0.3984% | 27 | 27 |
| HK | HONG KONG | 0.3502% | 28 | 29 |
| RO | ROMANIA | 0.3299% | 29 | 32 |
| ID | INDONESIA | 0.3027% | 30 | 40 |
| IL | ISRAEL | 0.2848% | 31 | 30 |
| CZ | CZECH REPUBLIC | 0.2831% | 32 | 31 |
| AR | ARGENTINA | 0.2671% | 33 | 35 |
| NZ | NEW ZEALAND | 0.2614% | 34 | 33 |
| IE | IRELAND | 0.2411% | 35 | 34 |
| TH | THAILAND | 0.2050% | 36 | 38 |
| GR | GREECE | 0.2009% | 37 | 41 |
| PT | PORTUGAL | 0.1973% | 38 | 36 |
| VN | VIET NAM | 0.1962% | 39 | 46 |
| CL | CHILE | 0.1952% | 40 | 37 |
| HU | HUNGARY | 0.1940% | 41 | 39 |
| SG | SINGAPORE | 0.1910% | 42 | 42 |
| CO | COLOMBIA | 0.1767% | 43 | 45 |
| MY | MALAYSIA | 0.1701% | 44 | 43 |
| VE | VENEZUELA | 0.1700% | 45 | 44 |
| UA | UKRAINE | 0.1677% | 46 | 49 |
| BG | BULGARIA | 0.1350% | 47 | 48 |
| PH | PHILIPPINES | 0.1340% | 48 | 47 |
| EG | EGYPT | 0.1077% | 49 | 50 |
| SA | SAUDI ARABIA | 0.0979% | 50 | 53 |
| LT | LITHUANIA | 0.0932% | 51 | 51 |
| SK | SLOVAKIA | 0.0851% | 52 | 52 |
| AE | UNITED ARAB EMIRATES | 0.0848% | 53 | 54 |
| IR | IRAN ISLAMIC REPUBLIC OF | 0.0739% | 54 | 55 |
| SI | SLOVENIA | 0.0661% | 55 | 57 |
| PE | PERU | 0.0644% | 56 | 60 |
| LV | LATVIA | 0.0641% | 57 | 58 |
| CR | COSTA RICA | 0.0638% | 58 | 56 |
| HR | CROATIA | 0.0634% | 59 | 62 |
| PK | PAKISTAN | 0.0570% | 60 | 68 |
| LU | LUXEMBOURG | 0.0529% | 61 | 59 |
| EE | ESTONIA | 0.0480% | 62 | 61 |
| PA | PANAMA | 0.0463% | 63 | 63 |
| CS | SERBIA AND MONTENEGRO | 0.0427% | 64 | 64 |
| KW | KUWAIT | 0.0397% | 65 | 67 |
| PR | PUERTO RICO | 0.0383% | 66 | 66 |
| IS | ICELAND | 0.0353% | 67 | 65 |
| EC | ECUADOR | 0.0307% | 68 | 71 |
| KZ | KAZAKHSTAN | 0.0303% | 69 | 72 |
| TN | TUNISIA | 0.0297% | 70 | 70 |
| UY | URUGUAY | 0.0289% | 71 | 73 |
| MA | MOROCCO | 0.0286% | 72 | 69 |
| BD | BANGLADESH | 0.0234% | 73 | 75 |
| CY | CYPRUS | 0.0216% | 74 | 74 |
| MK | MACEDONIA THE FORMER YUGOSLAV REPUBLIC ), array(OF | 0.0195% | 75 | 91 |
| NG | NIGERIA | 0.0195% | 76 | 77 |
| MT | MALTA | 0.0182% | 77 | 81 |
| QA | QATAR | 0.0180% | 78 | 78 |
| BO | BOLIVIA | 0.0178% | 79 | 76 |
| MU | MAURITIUS | 0.0174% | 80 | 22 |
| SV | EL SALVADOR | 0.0168% | 81 | 79 |
| BA | BOSNIA AND HERZEGOVINA | 0.0160% | 82 | 86 |
| GT | GUATEMALA | 0.0158% | 83 | 83 |
| GE | GEORGIA | 0.0156% | 84 | 90 |
| DO | DOMINICAN REPUBLIC | 0.0154% | 85 | 84 |
| LK | SRI LANKA | 0.0146% | 86 | 80 |
| LY | LIBYAN ARAB JAMAHIRIYA | 0.0142% | 87 | 101 |
| BY | BELARUS | 0.0141% | 88 | 95 |
| KE | KENYA | 0.0137% | 89 | 85 |
| DZ | ALGERIA | 0.0132% | 90 | 82 |
| LB | LEBANON | 0.0128% | 91 | 87 |
| MD | MOLDOVA REPUBLIC OF | 0.0128% | 92 | 92 |
| JO | JORDAN | 0.0127% | 93 | 89 |
| TT | TRINIDAD AND TOBAGO | 0.0114% | 94 | 97 |
| AN | NETHERLANDS ANTILLES | 0.0114% | 95 | 93 |
| OM | OMAN | 0.0110% | 96 | 88 |
| BH | BAHRAIN | 0.0098% | 97 | 99 |
| BN | BRUNEI DARUSSALAM | 0.0089% | 98 | 94 |
| AZ | AZERBAIJAN | 0.0086% | 99 | 100 |
| UZ | UZBEKISTAN | 0.0082% | 100 | 98 |
| NI | NICARAGUA | 0.0081% | 101 | 106 |
| MO | MACAO | 0.0081% | 102 | 96 |
| RS | SERBIA | 0.0078% | 103 | 111 |
| JM | JAMAICA | 0.0074% | 104 | 102 |
| GH | GHANA | 0.0071% | 105 | 105 |
| MN | MONGOLIA | 0.0066% | 106 | 104 |
| SY | SYRIAN ARAB REPUBLIC | 0.0064% | 107 | 107 |
| AM | ARMENIA | 0.0061% | 108 | 108 |
| HN | HONDURAS | 0.0060% | 109 | 114 |
| PY | PARAGUAY | 0.0060% | 110 | 112 |
| UG | UGANDA | 0.0060% | 111 | 110 |
| AL | ALBANIA | 0.0058% | 112 | 139 |
| KG | KYRGYZSTAN | 0.0058% | 113 | 113 |
| BZ | BELIZE | 0.0057% | 114 | 109 |
| NP | NEPAL | 0.0055% | 115 | 119 |
| KH | CAMBODIA | 0.0052% | 116 | 128 |
| TZ | TANZANIA UNITED REPUBLIC OF | 0.0049% | 117 | 118 |
| FJ | FIJI | 0.0049% | 118 | 117 |
| BM | BERMUDA | 0.0048% | 119 | 115 |
| CU | CUBA | 0.0048% | 120 | 116 |
| CI | COTE D'IVOIRE | 0.0045% | 121 | 125 |
| GA | GABON | 0.0044% | 122 | 146 |
| BB | BARBADOS | 0.0043% | 123 | 122 |
| GU | GUAM | 0.0041% | 124 | 103 |
| BS | BAHAMAS | 0.0041% | 125 | 121 |
| RW | RWANDA | 0.0040% | 126 | 127 |
| VI | VIRGIN ISLANDS U.S. | 0.0040% | 127 | 120 |
| NA | NAMIBIA | 0.0039% | 128 | 132 |
| BW | BOTSWANA | 0.0038% | 129 | 129 |
| LI | LIECHTENSTEIN | 0.0035% | 130 | 124 |
| GN | GUINEA | 0.0035% | 131 | 126 |
| SD | SUDAN | 0.0034% | 132 | 130 |
| SN | SENEGAL | 0.0032% | 133 | 138 |
| CM | CAMEROON | 0.0030% | 134 | 133 |
| MC | MONACO | 0.0029% | 135 | 131 |
| IQ | IRAQ | 0.0029% | 136 | 123 |
| AF | AFGHANISTAN | 0.0029% | 137 | 142 |
| MZ | MOZAMBIQUE | 0.0027% | 138 | 134 |
| ZW | ZIMBABWE | 0.0026% | 139 | 136 |
| AO | ANGOLA | 0.0026% | 140 | 143 |
| GI | GIBRALTAR | 0.0025% | 141 | 135 |
| NC | NEW CALEDONIA | 0.0025% | 142 | 137 |
| HT | HAITI | 0.0024% | 143 | 140 |
| RE | REUNION | 0.0021% | 144 | 213 |
| MV | MALDIVES | 0.0020% | 145 | 147 |
| ME | MONTENEGRO | 0.0020% | 146 | 179 |
| PG | PAPUA NEW GUINEA | 0.0019% | 147 | 150 |
| PF | FRENCH POLYNESIA | 0.0019% | 148 | 141 |
| TJ | TAJIKISTAN | 0.0018% | 149 | 148 |
| SR | SURINAME | 0.0018% | 150 | 162 |
| LA | LAO PEOPLE'S DEMOCRATIC REPUBLIC | 0.0018% | 151 | 152 |
| FO | FAROE ISLANDS | 0.0017% | 152 | 144 |
| ZM | ZAMBIA | 0.0016% | 153 | 156 |
| YE | YEMEN | 0.0015% | 154 | 149 |
| MG | MADAGASCAR | 0.0015% | 155 | 151 |
| AD | ANDORRA | 0.0014% | 156 | 154 |
| AG | ANTIGUA AND BARBUDA | 0.0014% | 157 | 157 |
| SZ | SWAZILAND | 0.0014% | 158 | 160 |
| MM | MYANMAR | 0.0014% | 159 | 145 |
| ML | MALI | 0.0013% | 160 | 163 |
| SL | SIERRA LEONE | 0.0012% | 161 | 158 |
| SM | SAN MARINO | 0.0012% | 162 | 159 |
| AW | ARUBA | 0.0012% | 163 | 153 |
| BT | BHUTAN | 0.0012% | 164 | 170 |
| KY | CAYMAN ISLANDS | 0.0012% | 165 | 161 |
| GY | GUYANA | 0.0011% | 166 | 155 |
| MW | MALAWI | 0.0010% | 167 | 172 |
| ET | ETHIOPIA | 0.0010% | 168 | 164 |
| AX | ALAND ISLANDS | 0.0010% | 169 | 186 |
| SC | SEYCHELLES | 0.0010% | 170 | 171 |
| BF | BURKINA FASO | 0.0009% | 171 | 168 |
| KN | SAINT KITTS AND NEVIS | 0.0009% | 172 | 167 |
| TG | TOGO | 0.0008% | 173 | 165 |
| WS | SAMOA | 0.0008% | 174 | 173 |
| MR | MAURITANIA | 0.0008% | 175 | 174 |
| LS | LESOTHO | 0.0008% | 176 | 182 |
| GL | GREENLAND | 0.0008% | 177 | 166 |
| GM | GAMBIA | 0.0007% | 178 | 175 |
| MP | NORTHERN MARIANA ISLANDS | 0.0007% | 179 | 169 |
| GD | GRENADA | 0.0007% | 180 | 183 |
| VA | HOLY SEE (VATICAN CITY STATE) | 0.0007% | 181 | 176 |
| NE | NIGER | 0.0007% | 182 | 204 |
| VC | SAINT VINCENT AND THE GRENADINES | 0.0007% | 183 | 189 |
| CD | CONGO THE DEMOCRATIC REPUBLIC OF THE | 0.0006% | 184 | 184 |
| VG | VIRGIN ISLANDS BRITISH | 0.0006% | 185 | 194 |
| BJ | BENIN | 0.0006% | 186 | 187 |
| SB | SOLOMON ISLANDS | 0.0006% | 187 | 178 |
| NR | NAURU | 0.0006% | 188 | 180 |
| TV | TUVALU | 0.0006% | 189 | 181 |
| CK | COOK ISLANDS | 0.0006% | 190 | 177 |
| TM | TURKMENISTAN | 0.0005% | 191 | 192 |
| LC | SAINT LUCIA | 0.0005% | 192 | 190 |
| VU | VANUATU | 0.0005% | 193 | 188 |
| ER | ERITREA | 0.0005% | 194 | 195 |
| AQ | ANTARCTICA | 0.0005% | 195 | 193 |
| CG | CONGO | 0.0004% | 196 | 202 |
| CV | CAPE VERDE | 0.0004% | 197 | 212 |
| AI | ANGUILLA | 0.0004% | 198 | 185 |
| PW | PALAU | 0.0004% | 199 | 196 |
| DM | DOMINICA | 0.0004% | 200 | 191 |
| KP | KOREA DEMOCRATIC PEOPLE'S REPUBLIC OF | 0.0004% | 201 | 210 |
| DJ | DJIBOUTI | 0.0004% | 202 | 197 |
| GP | GUADELOUPE | 0.0004% | 203 | 206 |
| SO | SOMALIA | 0.0004% | 204 | 203 |
| TO | TONGA | 0.0004% | 205 | 198 |
| GF | FRENCH GUIANA | 0.0004% | 206 | 199 |
| CF | CENTRAL AFRICAN REPUBLIC | 0.0004% | 207 | 208 |
| MQ | MARTINIQUE | 0.0004% | 208 | 214 |
| MH | MARSHALL ISLANDS | 0.0004% | 209 | 215 |
| GW | GUINEA-BISSAU | 0.0003% | 210 | 205 |
| GQ | EQUATORIAL GUINEA | 0.0003% | 211 | 216 |
| FM | MICRONESIA FEDERATED STATES OF | 0.0003% | 212 | 209 |
| KI | KIRIBATI | 0.0003% | 213 | 207 |
| LR | LIBERIA | 0.0003% | 214 | 201 |
| BI | BURUNDI | 0.0003% | 215 | 211 |
| AS | AMERICAN SAMOA | 0.0003% | 216 | 200 |
| IM | ISLE OF MAN | 0.0002% | 217 | 225 |
| TD | CHAD | 0.0002% | 218 | 219 |
| ST | SAO TOME AND PRINCIPE | 0.0002% | 219 | 217 |
| KM | COMOROS | 0.0002% | 220 | 220 |
| IO | BRITISH INDIAN OCEAN TERRITORY | 0.0001% | 221 | 218 |
| TC | TURKS AND CAICOS ISLANDS | 0.0001% | 222 | 222 |
| JE | JERSEY | 0.0001% | 223 | 223 |
| WF | WALLIS AND FUTUNA | 0.0001% | 224 | 228 |
| NF | NORFOLK ISLAND | 0.0001% | 225 | 221 |
| MS | MONTSERRAT | 0.0001% | 226 | 226 |
| FK | FALKLAND ISLANDS (MALVINAS) | 0.0001% | 227 | 227 |
| NU | NIUE | 0.0000% | 228 | 224 |
| TL | TIMOR-LESTE | 0.0000% | 229 | 229 |
| BV | BOUVET ISLAND | 0.0000% | 230 | 232 |
| YT | MAYOTTE | 0.0000% | 231 | 231 |
| UM | UNITED STATES MINOR OUTLYING ISLANDS | 0.0000% | 232 | 233 |
| TK | TOKELAU | 0.0000% | 233 | 234 |
| GG | GUERNSEY | 0.0000% | 234 | 236 |
| HM | HEARD ISLAND AND MCDONALD ISLANDS | 0.0000% | 235 | 235 |
| TF | FRENCH SOUTHERN TERRITORIES | 0.0000% | 236 | NA |
| GS | SOUTH GEORGIA AND THE SOUTH SANDWICH ISLANDS | 0.0000% | 237 | 237 |
| PN | PITCAIRN | 0.0000% | 238 | 238 |
Chart 1:Worldwide IP Address Ownership by Country in 2008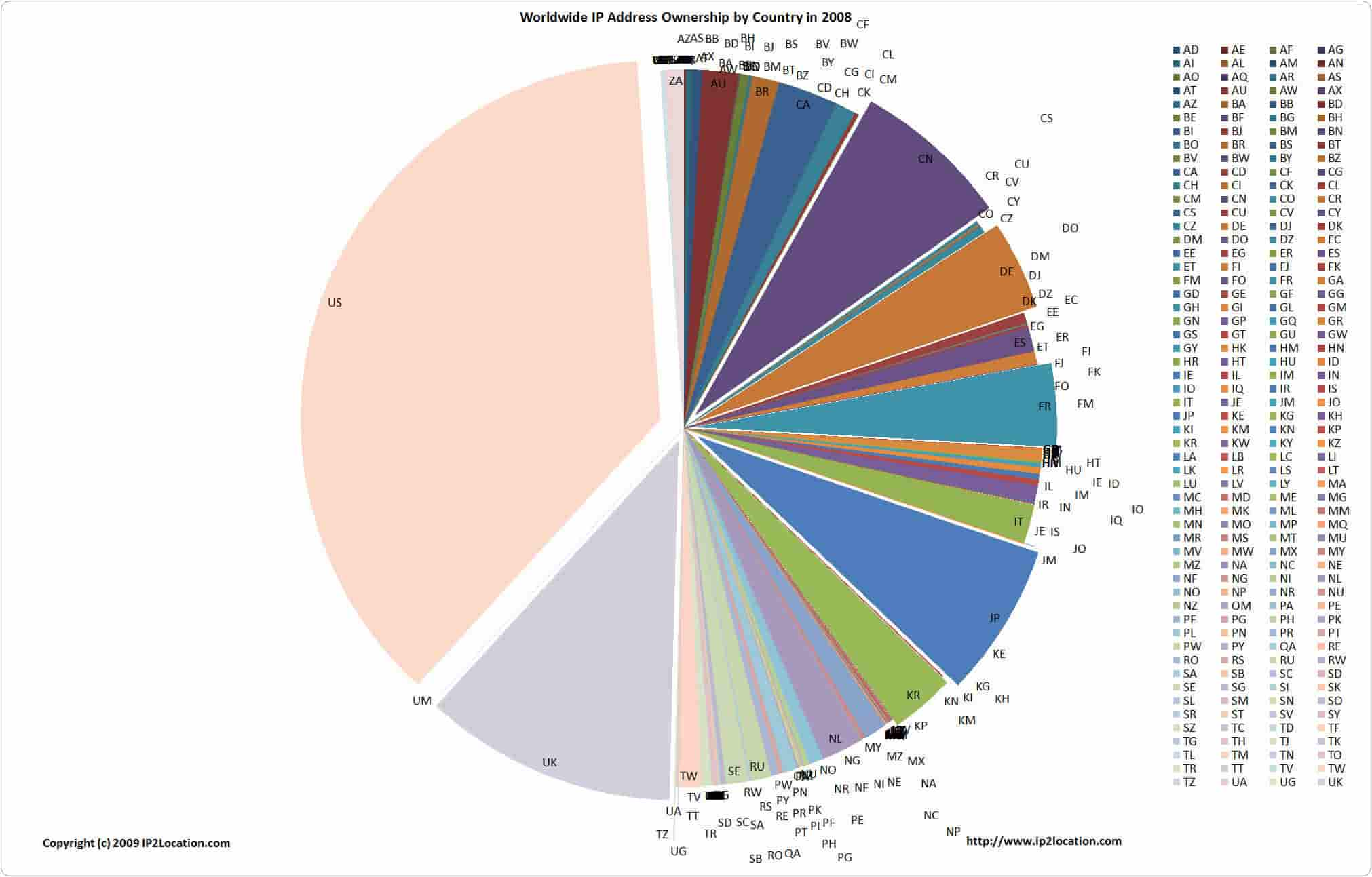 Chart 2:Worldwide IP Address Ownership by Country in 2008 with Month-to-Month Comparison